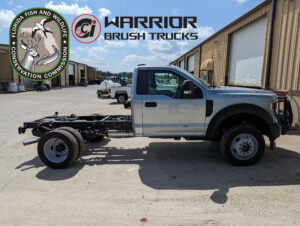 We have recently begun building 3 new Warrior Brush Trucks! The new 3 new chassis' will be built into WARRIORS for the good folks at MyFWC Florida Fish and Wildlife! Florida Fish and Wildlife Conservation Commission | FWC (myfwc.com)
We will keep you posted as these get built!
WE BUILD WARRIORS.

WE BUILD WARRIORS.
Made in the U.S.A.
Engineered tough. Built to last. Mission ready.
At Warrior Brush Trucks, we take pride in engineering top-performing trucks that are built to withstand the rigors of emergency situations. Our team of dedicated wildland professionals and engineers work tirelessly to manufacture each truck from the ground up, ensuring that every aspect of the vehicle is optimized for peak performance.
While anyone can build a brush truck, no one does it quite like Warrior. We understand that the equipment we produce can mean the difference between life and death in high-pressure situations, and we take that responsibility very seriously. When you purchase a Warrior Brush Truck, you can trust that you're getting a professionally engineered apparatus that is more than capable of handling any emergency situation that comes your way.
Ultimately, choosing Warrior Brush Trucks is the smartest decision your agency can make when it comes to protecting your community. Don't settle for anything less than the best – trust Warrior to deliver the performance, durability, and reliability you need to keep your firefighters & community safe.